Advanced purchase required for day passes, ski school products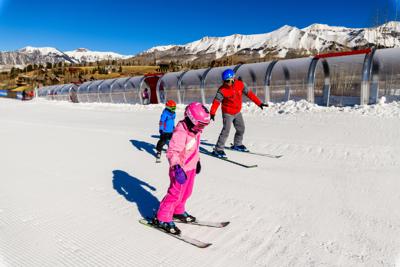 While season passes have been on sale, Telski announced the lift ticket prices for the upcoming 2020-21 ski season this week, which will be available for purchase online at tellurideskiresort.com beginning Oct. 8.
Early season prices, which are effective Opening Day Nov. 26 through Dec. 15, are $140 for adults, $71 for children ages 6-12 and $104 for seniors ages 65-79. Regular season prices from Dec. 16 to Closing Day April 4 are $169, $96 and $147, respectively. The resort anticipates hosting the annual Donation Day Nov. 25, which benefits the Telluride Ski & Snowboard Club, snow conditions and COVID-19 restrictions permitting.
All lift tickets and ski school products must be purchased in advance online, as there will be no day-of purchases at the ticket window this season due to the coronavirus protocols. Ski school products can also be purchased online starting Oct. 8.
Carson Taylor, Telski's director of skier services, explained that the resort has been focused on providing the loyalty discount for those who held season or multi-day passes and wish to renew before the upcoming season. With the discount, which ends today (Wednesday), a season pass is $1,500. Regular priced passes for this year are $1,750.
"We've been selling passes for three weeks now and demand remains strong. The first phase of the pass sale has focused solely on last winter's season pass and multi-day card holders, of which the reception to having extended the loyalty discount or credit towards the purchase of a pass this winter has been very positive," he said. "The product sales team has made some adjustments and are focusing on pre-fulfillment as it pertains to the purchase of any winter product, whether it be a season pass, T Card, lift ticket or ski school product. The goal is to reactivate season pass cards for those whom still have them or advance print and mail to as many guests as possible prior to their arrival."
Telski officials have previously said that there will be no reservation system for pass or multi-day holders this year like Vail Resorts has implemented, though requiring advanced purchases for lift tickets ski school products helps the resort as it operates during a global pandemic, Taylor added.
"Currently, we are not strategizing to deploy an advanced reservation system for season pass and multi-day card holders," he said. "However, other traditional winter products like lift tickets and ski school will require advanced reservations. Requiring reservations for lift ticket and ski school products provides for inherent control features in the form of capacity management if or when necessary."
The resort has been proactive in how it plans to have a successful season during an unprecedented pandemic, including expanding on-mountain dining outdoors in temporary tents that can withstand the weather.
"We're all more or less being forced to navigate these uncharted waters and subsequently do not have clarity on how certain changes to our day-to-day operations will impact our staff and guests' experience," Taylor said. "Our primary goal remains to make decisions that provide a healthy and safe environment for all, so we can ride the chairlifts and ski down the mountain."
Jeff Proteau, Telski's vice president of mountain operation and planning, CFO Tom Richards, director of risk manager Matt Thomas and Chad Horning, who is the son of majority owner Chuck Horning, were part of last week's San Miguel Board of County Commissioners virtual meeting in discussing the resort's operating plans for the upcoming season. The talk continues during today's county meeting, starting at 12:45 p.m. The agenda item is budgeted for an hour. For a complete schedule of the meeting, visit sanmiguelcountyco.gov.
Special Thanks Telluride Daily Planet