Resort prepares for the season
Backcountry use of resort currently not permitted
Special Thanks to Bria Light, Telluride Daily Planet Staff Reporter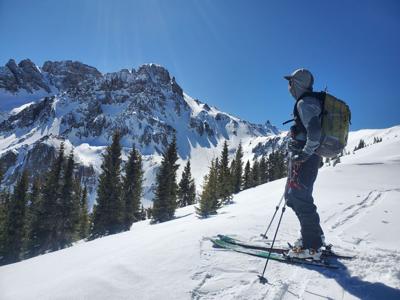 It's that time of year again when photos abound on social media featuring fat pillows of snow on deck chairs or, better yet for ski town powder hounds, the season's first ski turns. While those with backcountry ski gear and skills are heading for the snow-covered hills after last weekend's storm, Telski management reminded early-season enthusiasts that resort terrain is currently closed for safety reasons as workers prepare the mountain for opening day.
"The mountain is not a safe place to be unless you're working right now," said Scott Pittenger, director of mountain operations. "We have patrol out there, setting off and triggering slides all over the mountain. We really want people to recreate elsewhere right now."
Jeff Proteau, Vice President of mountain operations and planning, noted that skiers cannot currently access Bear Creek terrain via the resort, and the presence of recent snowfall along with explosives and power lines for snowmaking machines are among the dangers that could lead to unwanted consequences for skiers using resort terrain to recreate.
This year, along with the usual hive of activity to ready the resort for ski season, Telski management is busy restructuring operations and procedures to reduce the risk of COVID-19. While the actual act of skiing remains very low risk concerning the virus, waiting in lift lines, enjoying lunch or snacks at resort restaurants and warming up during the ski day all require new protocols.
"Skiing will be the same as it ever was," observed Proteau, "but when you're on lifts and in public places, it'll be different."
Ski lifts will offer group seating for people in the same party, while a space will be left open between unrelated parties. Those who prefer to ride the lift solo will have the option to do so. Masks and extra space between lift lines will be required to avoid the risk of crowds at the lifts.
Skiers and riders will also notice changes when dining at on-mountain restaurants: QR codes will be posted outside for diners to scan with their smartphones to facilitate choosing and ordering food items outside while maintaining social distance. Additional outdoor seating and outdoor shelters will offer places for skiers to warm up, eat and rest while minimizing indoor congregations.
"Be prepared for some things to be different," advised Proteau. "There may be inconveniences in terms of riding the lifts, there may be delays. We ask people to be patient and kind to employees."
He encouraged skiers to dress warmly and plan ahead, such as by purchasing lift tickets online in advance to load onto their passes, thus shortening lines and minimizing interactions at the ticket windows.
The resort plans to open as is traditional on Thanksgiving Day, with Donation Day taking place Wednesday, Nov. 25. For $25, skiers and snowboarders can access Lift 4 for their first resort turns of the season, with all proceeds from the day benefitting the Telluride Ski and Snowboard Club.
"We encourage people to buy their tickets online in advance for Donation Day," said Proteau, noting that online lift ticket purchases will help reduce the inconvenience of waiting in lines, and purchases can be loaded onto last year's pass. Those needing a paper ticket will have access to outdoor ticket windows, as indoor ticket offices will remain closed to the public due to the pandemic.
"We need everyone to really comply with the COVID restrictions that we have and stick to the five commitments of containment that we've talked about throughout the pandemic," said Proteau. "We're really going to enforce and stress that. The more we get everyone on board and complying the better it'll be when guests start to arrive because then they'll see everyone and feel obligated to comply as well."