Donation Day offers early access Wednesday
Special thanks to Bria Light, Telluride Daily Planet Staff Reporter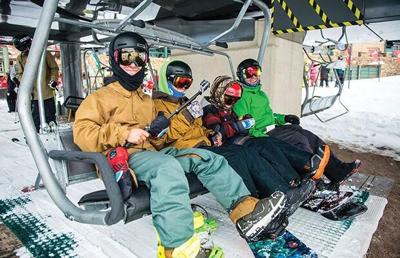 There is a lot about Thanksgiving weekend that is not the same this year, but one important tradition for snow enthusiasts remains in place. Thursday, Telski will officially open for the ski season, with select lifts ferrying skiers and snowboarders uphill across the sparkling slopes. In keeping with tradition, Wednesday will provide early access to the slopes for Donation Day, the annual fundraiser for the Telluride Ski & Snowboard Club (TSSC). For a $25 ticket, participants can hit the slopes around Lift 4 a day early, with 100 percent of the proceeds donated to the club by Telski.
"It's our biggest fundraiser of the year," said TSSC Executive Director Justin Chandler, noting that due to the pandemic the club has not been able to hold any other fundraisers this year. "It all goes directly to local kids."
The funds raised on Donation Day are used to waive dues for eligible families, as well as purchase the requisite gear to provide to kids who need it. Approximately 450 children are enrolled in the club this year, and while skiing and snowboarding are the most popular disciplines, the club also offers Nordic skiing and figure skating.
"Our philosophy is one of inclusiveness," said Chandler. "We want as many kids as possible to join in whatever discipline they choose to join. As kids get older, they can choose to get more into competition and get to whatever level they dream to be at. But we value commitment, dedication, sportsmanship, attendance above results. But it turns out when you have those values, you get better results."
Those wishing to support TSSC on Donation Day can purchase a $25 ticket at any ticket window or online. Even those who wish to support but don't want to hit the slopes can purchase a ticket through the ski resort's website.
Though COVID-19-induced travel restrictions may mean fewer visitors than usual for Thanksgiving weekend, resort officials are expecting a relatively normal opening weekend in terms of numbers. Opening Day is generally popular with locals, while November typically sees fewer tourist visits.
"Lift ticket sales and capacity for this week and weekend's opening scenario appear traditional in nature," said Carson Taylor, the ski resort's director of mountain sales. "Normally the majority of Opening Day and the subsequent weekend's visits come from local passholders, with a small percentage derived from lift ticket sales," he said, noting that resort management is carefully monitoring sales numbers and will impose a cap in order to maintain a "comfortable capacity on the slopes" if deemed necessary.
Both government officials and ski resort management are imploring the community to stay home this Thanksgiving weekend, limit gatherings, especially indoors, to protect the ability to remain open for a ski season this winter.
"To save the ski season, we must all immediately limit Thanksgiving and future indoor gatherings to only members of our immediate households," said Chad Horning, who is the son of majority owner Chuck Horning, in a recent Telski news release.
Town governments, area medical providers and the ski resort provided a unified message to residents in an open letter on Monday, urging community members to cancel plans and stay home. Recent data from the state of Colorado has shown that gatherings of friends and family indoors have been one of the leading causes of COVID-19 transmission, according to the letter. Hospitals across the state have issued warnings of limited capacity as hospitalizations have risen, a reality that officials warned could lead to the closing of the ski resort if not controlled.
"Our actions as individuals today will help our economy survive this winter, keep our schools and day care centers open and could save the life of a family member or friend," the letter stated.