'Remember the three V's'
Special thanks to The Telluride Daily Planet - Leslie Vreeland, Contributing Editor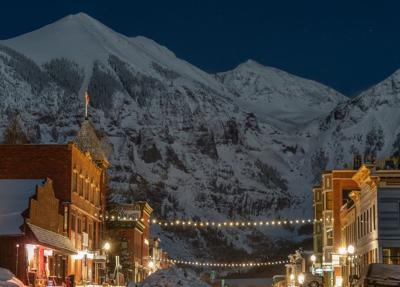 Bars and restaurants face a challenge as the state's Safer at Home dashboard flashes increasingly urgent shades of Yellow, Orange and Red, for COVID-19 transmission risks in each county.
The challenge boils down to five words:
How to stay in business? At least Coloradans can still dine out. On Friday, the Bay Area enacted stay-at-home restrictions, per orders of California Governor Gavin Newsom.
To inspire people to keep dropping by, at least one Western Slope brewery has implemented a new program. If you had to assign it a color, you might make it White: It's the Polar Bear Outdoor Drinking Club.
"We'd been wracking our brains for the past two months on what to do as the weather turns colder," said Brian Fischer, the founding partner of Monumental Beer Works, Polar's progenitor, in the Grand Valley. "We've got two patios. We'd love to have people come and drink here outside. We've considered putting up yurts, greenhouses, or fishing tents. We thought about wrapping our pergolas."
"All of those were too expensive," said Fischer, "and the pergola wasn't safe because of (the risk of collapsing due to) snow loads. It wasn't worth it to spend $15,000 to wrap the pergola for two to three months."
So Fischer decided to embrace the great wide-open.
"I thought, wait a minute. I don't get it. I grew up in Summit County, and to this day I'm an avid skier," he said. "When we're done with skiing for the day, we sit outside and have a beer. I guarantee you at Telluride they're also outside. We just have to give people an incentive to drink outside."
And that inspired the Polar Bear Drinking Club punchcard: every time you have a drink outdoors in 45-degree (or below) weather, the card gets punched. After 10 punches, you get a free beer.
No Polar Bear affiliates exist in the San Juans, but there are plenty of places to enjoy a bite and a beverage even though you're not inside a Telluride restaurant. The same goes for Mountain Village, as well.
"Basically, outdoor dining is everywhere," said Zoe Dohnal, Business Development and Sustainability Director for the Town of Mountain Village. What's more, regional restaurants are rushing to keep patrons more comfortable while they eat and drink outside. "You can stay socially distanced here," Fischer said, "and we have space heaters."
"We had a heating grant, and a lot of restaurants" have installed equipment "for just this purpose," Dohnal said: to keep guests cozy and still outdoors."
Those restaurants are on the right track, said Larissa Pisney M.D., the medical director for Infection Control at UCHealth. "I commend them for doing whatever they can to make it safe for patrons."
This said, in a pandemic, even outdoor dining carries risks.
"The way I've best heard it expressed is, remember the three V's," Dr. Pisney said. "Venue, ventilation, and vocalization. There's a higher risk when people gather indoors. Another piece of it is ventilation: hospitals have more efficient ventilation systems, for example, than commercial buildings do, or people's homes. The other part is vocalization: to eat or drink, you have to take your mask off."
The safest way to dine out right now is to really dine out — in the outdoors — Pisney summed up, with members of your family. But she added, "I think everything right now comes down to taking your own individual risk into account. I have a younger brother, who's in his 30s. He's a rugby player. He and his wife have certainly eaten outside. For myself, I have a nanny share with another medical family, and I see patients all the time for my work. I fell pretty responsible to those other people. For higher-risk people, it may be better not to sit down at all. If you're outside, socially distanced, wearing your mask, with just your group and lots of hand washing before and after you eat or drink, that's as safe as you can make it."
"In my household, we're supporting restaurants by ordering lots of takeout," she added. "It's an excuse not to cook."