New brewpub and taqueria in Mountain Village
Special Thank Bria Light, Telluride Daily Planet Staff Reporter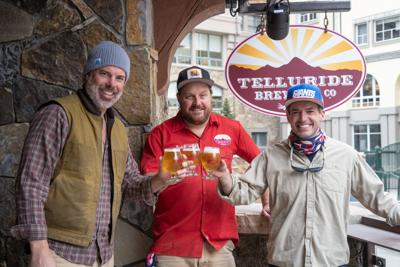 When I was 20 years old, I fell head over heels in love. It was the kind of love that hit me with all the force of divine revelation, an unshakable certainty that this was a love that would stand the test of time. The only thing was, the object of my affections was not, in fact, human, or even a single entity. Truth was, I had fallen irrevocably in love with Mexican street tacos.
Indeed, this is a love that has endured to the present day, and though I no longer inhabit the homeland of my beloved tacos, our long-distance relationship may soon come to a blessed end. Telluride Brewing Company Brewpub and Taqueria will open its doors Wednesday in the Mountain Village center, offering a rotating selection of unique craft beers and a mouth-watering menu of authentic Mexican-style street tacos crafted by Chef Alex Castagneto.
"Alex was making these incredible tacos up in Denver and I never forgot it," said Jared Schwartz, co-creator of The Goods Hospitality and Los Buenos Tacos, who partnered with Telluride Brewing Company for the brewpub.
The tacos, Schwartz said, feature fresh in-house tortillas made from blue corn sourced from Bow & Arrow of the Ute Mountain Ute tribe, along with locally-sourced meats, proteins and produce. Al pastor pork will be roasted in traditional style on a rotisserie and served with the requisite pineapple slivers for that pop of sweet with the savory. Cochinitas, a slow-roasted marinated pork traditionally wrapped in banana leaves and roasted for days in the ground, will be on offer alongside barbacoa, locally sourced buffalo tongue lengua and Baja-style fish tacos.
Vegetarians have options too: char-grilled mushrooms with herbs and calabacitas with stewed black beans offer non-meat proteins for the herbivores.
"Los Buenos Tacos boys — their tacos are mind blowing," said Chris Fish, co-founder and brewmaster of Telluride Brewing Company (TBC). "It's very exciting to pair our beers up with these tacos. We're really excited about this partnership."
While the brewery had been thinking about opening up a second location for years, it wasn't until about a year and a half ago that the idea to bring a brewpub to Mountain Village began to crystallize with assistance from the Town of Mountain Village Owners Association.
"The Lawson Hill location is a little difficult if you don't have a car or it's not summer so you can't bike," said Tommy Thacher, TBC's co-owner and president, explaining that the team had considered locations as far away as Montrose. "This location allows us to stay at home and grow our footprint in our own community, which is what it's all about, and it allows us to reach a bigger audience."
The brewpub also boasts an on-site brewing facility, with Fish concocting a variety of new styles and experimental small batch brews. An aficionado of Belgian-style beers, Fish is looking forward to embracing his love of traditional beers by brewing up old-world styles like tripels, saisons, farmhouse ales and Christmas beers.
"It's a total fun zone," said Fish of the new brewing space. "We'll be using it for recipe development, pushing boundaries and diving into lots of traditional styles. We'll be able to do a lot of stuff we couldn't do on a large production scale down at Lawson."
Of course, due to COVID-19 restrictions, the new brewpub will be open for take-out only for now. Fortunately, street tacos lend themselves well to eating outside or on the go, traditionally gobbled down by a roadside stand fresh off a piping-hot comal. Mountain Village's plazas are "common consumption" areas as well, so patrons can also purchase take-away pints, crowlers and six-packs.
"Street tacos are meant to be eaten on the go," said Swartz, noting that the brewpub is offering a "baker's dozen" special, with an extra taco thrown in for free upon ordering a dozen. They'll also be offering taco supplies to go, so DIY taco lovers can get their fix at home.
Between the food and the beer, "it's an all-star team up here, super passionate about using the best ingredients," said Thacher. "It's a unique and fun partnership."