Facemask ordinance extended
Special Thanks Suzanne Cheavens, Associate Editor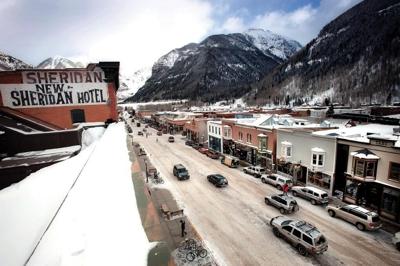 Twice a year, Telluride's mayor delivers a State of the Town address that is a reflection on events, accomplishments and sometimes, disappointments. Various mayors have offered anything from dry punch lists of achievements, to ebullient assessments of another six months of life in Telluride. Mayor DeLanie Young, who with members of Telluride Town Council, was tasked with leading town government through the economic and social challenges brought on by the COVID-19 pandemic, struck a series of positive notes in her January State of the Town address, delivered at Tuesday's regular council meeting.
"There is much for which to be grateful," Young said. "Many in our community have received vital assistance this year. Planning and building more employee housing, rent relief, and food boxes contributed to our basic human needs. Grants to businesses and investments in outdoor infrastructure kept people employed and our economy on track. We can always do more. We can always do better."
Young also highlighted positives such as increased civic involvement in government proceedings, sales tax collections that matched those of 2019, record Real Estate Transfer Tax collections, the forward movement of the Sunnyside affordable housing development, rent relief, and strengthened collaboration between local governments.
"We must remember to watch closely and listen closely, because there are people who still need our help," Young concluded. "There are some who have struggled and received little to no support. The real beauty of our community is incomplete without the total sum of its parts. We must work together to preserve what we all love — our beautiful home: Telluride."
(For the full text of the State of the Town address, please see Page 3 in this edition of the Planet.)
Following the abrupt halt to a council call-up of a Historic and Architectural Review Commission decision that denied the demolition of two historic, though altered, structures on a West San Juan Avenue lot slated for possible construction of a new hotel, (the applicants withdrew the request to demolish the house and shed), council tackled the rest of its agenda.
With no discernible end to the pandemic in sight, council, faced with its emergency ordinance concerning facemask set to expire Jan. 26, voted unanimously to extend the legislation. The latest extension will expire May 21.
The extension, explained town attorney Kevin Geiger, contains provisions similar to the state's executive order and is little changed from previous iterations of the ordinance. Key differences in Telluride's ordinance in contrast to the state's order, are the requirement that children ages 2 and older also don facemasks in indoor businesses open to the public, and on public transit (along with adults), and that wearing a face covering is required if lingering longer than 5 minutes outdoors with those outside of one's household pod. Geiger reminded council of the motivation behind the emergency ordinance, which is, "concern for the public health, safety and welfare" of residents and visitors.
Young added that the American Pediatrics Association's recommendation that younger people also wear masks, gave weight to Telluride's ordinance.
The May 21 expiration date coincides with the expiration of the resolution in place that allows public, open consumption of alcoholic beverages, giving council an opportunity to reassess each piece of legislation concurrently, based on the newest information surrounding the pandemic.
"We'll start looking where we might go for the summer," Geiger said.
Council also passed on second reading a resolution that aims to relieve the centerlane of its increased use in the commercial core so that delivery trucks can gain improved access. In council's memo, the purpose of the resolution is to restore the loading zone to its primary and intended purpose — commercial delivery for businesses lacking alley access.
"With the dramatic increase in vehicular traffic this summer, keeping the Center Lane Commercial Loading Zone clear and open for delivery trucks has become increasingly challenging," the memo from the Telluride Marshal's Department reads. "A review of the procedure on the issuance of center lane and service permits showed that there are currently 357 center lane permits issued and 220 service permits issued. Although stricter enforcement is one component of this, clearer guidelines on the use and issuance of permits needs to be addressed."
Telluride Chief Marshal Josh Comte explained the resolution places a cap of three centerlane permits per business and that the New Sheridan Hotel has been accommodated with spaces in front of the courthouse for guest check-in, loading and unloading. Those spaces will also be utilized as drop-offs and pickups for taxi and shuttle services. Other requirements in the resolution include a 30-minute time limit for active loading or unloading, a fee and fine schedule, and other measures.
The resolution was passed unanimously.
Council was also unanimous in giving Jonathan Greenspan another term on the Ecology Commission, on which he has served since November 2014.
"He's taken an active role in ecological discussions across the region for many years," said Mayor Pro Tem, Todd Brown before making the motion to approve Greenspan's re-appointment.
Greenspan will serve for another two years.
The town has entered into an intergovernmental agreement with the Town of Mountain Village, which will provide grooming for the sledding area on Firecracker Hill in Telluride Town Park. Mountain Village owns snowcat equipment designed for the job and will bill the town $90 per hour for the service. The goal, according to the IGA is to "provide a quality sledding experience for citizens and visitors."
"We're preparing it in anticipation of more snow," said Town Manager Ross Herzog.
The sledding hill will remain closed until that time.