Staggeringly Low Housing Inventory Across Colorado
Market Trends, Market Trends & Statistics, REALTOR News, Residential Housing, Stats & Trends, Uncategorized
Tom Brady has more than 2X as many Super Bowl rings as there are houses for sale in southeast Boulder County
ENGLEWOOD, CO – Feb. 10, 2021 – While early February spotlights Groundhog Day and the annual prediction of spring's arrival, the Colorado housing market just keeps reliving its long-term storyline of low inventory and high demand with no predictable change in sight, according to the January 2021 housing data from the Colorado Association of REALTORS® (CAR).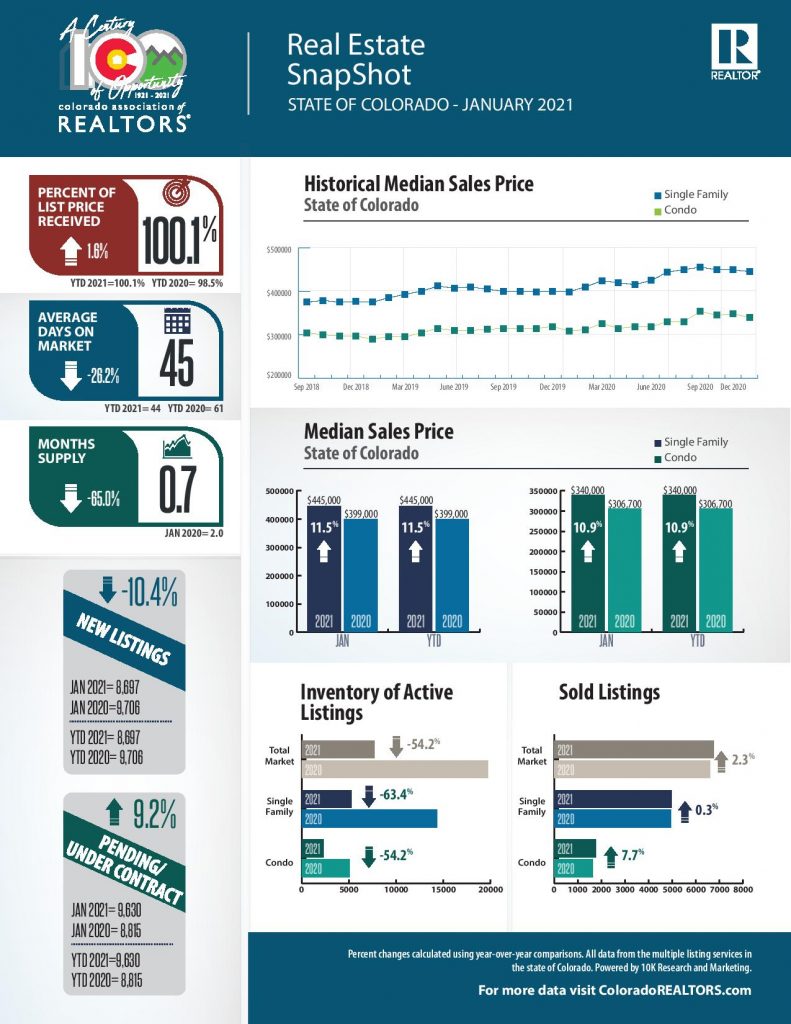 With new, staggeringly low records for active single-family listings in the Denver metro area (1,994 properties) and statewide (5,241), maybe nowhere is it more evident than in southeast Boulder County where, following Sunday's Super Bowl outcome, quarterback Tom Brady now has more than twice as many championship rings than there are homes for sale (3) in the city of Louisville, a community of a little more than 20,000 people, according to REALTOR® Kelly Moye. And the insatiable buyer demand through the winter months has continued the pricing uptick creating a relative feeding frenzy for each and every available property. "It appears that today's quest to find the perfect home is remarkably similar to the quest to find toilet paper during the early days of the pandemic," said Durango-area REALTOR® Jarrod Nixon.
Taking a quick home-buying tour around the state, the following chart highlights the median price of a single-family home in select Colorado counties at the end of January 2021 and ranked by the percentage increase in that price from a year prior.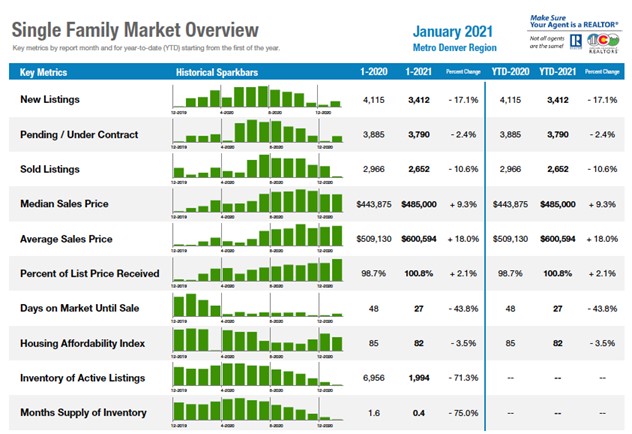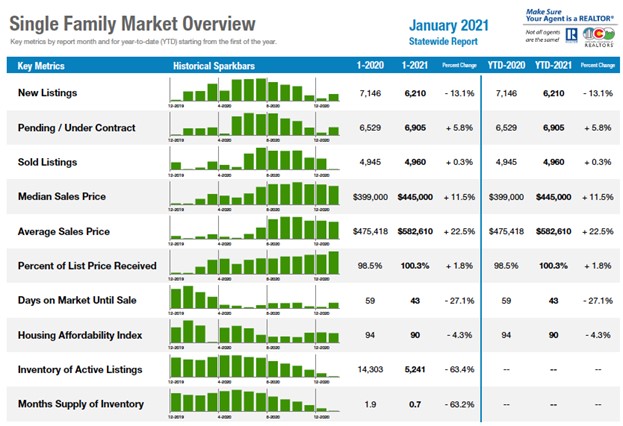 Taking a look at some of the state's local market conditions, Colorado Association of REALTORS® market trends spokespersons provided the following assessments:
AURORA
"303, -73.5%, $450,000 and 101.5%. These are the numbers telling the story of Aurora's single-family housing market for January. We have 303 available homes for sale with total listings down 73.5% from January 2020. Our median price of $450,000 is the result of homes selling on average for 101.5% of list price.
"The townhome-condo market reflects much of the same with inventory down 63.5% over 2020 and the median price up 14.4% to $304,513. With interest rates extremely low and sellers fearful of a move due to COVID-19 or a number of other concerns, it is hard to tell when we will see the inventory numbers increase.
"For homebuyers, the beat goes on; be prepared to act quickly. Waiting to view a home and/or put an offer on that home may exclude you from that property. Homes are selling very quickly, and buyers need to plan to pay more than the list price. With many homes selling in excess of 100% of their list price, this is not a good time for a buyer to try and lowball on price. As we move into the higher demand time of year, we will be watching to see what direction pricing and inventory take," said Aurora-area REALTOR® Sunny Banka.
BOULDER/BROOMFIELD
"Tom Brady has won more Superbowl Championships than there are houses for sale in Louisville, Colorado. Just outside of Boulder, the city of Louisville has exactly three houses for sale, two of which have offer deadlines which will likely mean they will sell by the time you've read this summary.
"Apparently, homeowners in Boulder County are loving where they live, or have chosen to remodel instead of moving, as our listings in this area are down 33%. Prices are up 10% and we have two weeks of inventory left. The dwindling inventory and high demand from buyers to move to this area has created nothing less than a 'Hunger Games' feel in the marketplace. Sellers are enjoying the higher prices and quicker sales but find themselves challenged with finding a replacement home. This situation has caused many to stay where they are, further exacerbating the problem.
"Broomfield County is sharing this experience with its Boulder neighbor, with listings down 25% and median home prices up a whopping 19% since this time last year. With only 10 days worth of inventory in this county, buyers scramble to buy houses, as well as attached townhomes and condos. We can look for some relief as the spring selling season approaches and hopefully, we have more listings hit the market. Buyers, sellers, and REALTORS® are becoming weary in what has been an unprecedented start to the year," said Boulder/Broomfield-area REALTOR® Kelly Moye.
COLORADO SPRINGS/PIKES PEAK AREA
"In January 2021, there were 460 active listings of Single-family/patio homes with 971 sales, compared to 4,326 active listings with 460 sales in January 2011. Also, from January 2011 to 2021, the average price rocketed 106% from $210,879 to $433,581, the median price soared 108% from $180,000 to $375,000, and the monthly sales volume exploded by 334% from $97,004,340 to $421,007,2004. So, it seems wise not to predict the future at this time.
"Last month, we recorded the highest level of monthly sales, monthly sales volumes, as well as record-high average and median sales prices compared to any January on record.The year-over-year single-family/patio home sales activity saw a 6% increase in monthly sales, over 22% increase in the months' sales volume, a 16% increase in the average sale price, ascending to $433,581, and an over 11% increase in the median sale price rising to $375,000, with a shocking over 61% decline in the active listings.
"Last month, 76.6% of the single-family/patio homes sold were priced under $500,000, while 18.6% were between $500,000 and $800,000, and 4.7% over $800,000. Year-over-year, there was a 68% drop in the sale of single-family/patio homes priced under $300,000, primarily due to the inventory shortage, while we had a surprising 122% increases in homes priced between $400,000 and $600,000, and between $600,000 and $1 million, and an astounding over 133% increase in homes priced over $1 million.
"Buyers generally purchase properties offering competitive values, even in a vigorously robust real estate market. Unsurprisingly, even while the listings are at a shockingly low level, over 14% of the El Paso and Teller county active listings in the Pikes Peak MLS had price reductions. Undeniably, pathetically low inventory and affordability challenges due to ever-soaring prices continue to be the most challenging aspect of the Colorado Springs area housing market," said Colorado Springs-area REALTOR® Jay Gupta.
COLORADO SPRINGS/PIKES PEAK AREA
"The housing market sprinted to more new highs as we began 2021. The median sales price rocketed up 15.2% on single-family homes and the competition in the race between buyers is absolutely brutal. In order for a buyer to actually get a chance at winning a home they have to come in above full price, offer an appraisal gap in the double digits, and then hope that the other buyer isn't playing with full cash. REALTORS® far and wide are writing 8-10 offers for their buyers only to have buyers give up and try to rent for another year. Anytime a buyer decides they want to put in an offer it's like getting into the ring with Mike Tyson, you are going to get pummeled.
"With over 2.7 million mortgages in forbearance and a moratorium placed on foreclosures, there seems to be little relief on the horizon. As we shed millions of jobs a month, the housing economy is once again shrugging it off. There is no good news in regard to the actual economy. The FED continues to offer trillions of dollars in relief while balancing inflation and economic fears. With so much printed money, far more than we have ever tried to print, there is no telling what the economy will do as we move forward. It seems the real balance now is trying to avoid inflation and manipulate interest rates.
"We are in a new era. These tactics have never been used by the FED like they are now and the more money that gets printed the higher the stock market and housing market goes. Are both in bubbles? I have no idea, but I can tell you that if inflation takes off and the only cure is higher interest rates to try to correct that, then we do have real problems. Like years past, we will have to deal with the market we are in today. So, if you are selling, it is going to be a great time to cash in on epic appreciation. If you are buying you are going to wish you were not. Let's see how the year progresses and if we can get new jobless claims under control. If not, we will see that ripple through every part of the economy and housing will be the last to likely show it," said Colorado Springs-area REALTOR® Patrick Muldoon.
CRESTED BUTTE/GUNNISON VALLEY
"The real estate numbers from all of the resort towns in Colorado tell a similar story – record sales, low inventory and increasing values. January 2021 did not provide any indication that there will be a dip or correction anytime soon. January is typically the slowest month of the year for closings, but the number of sales this year was almost double the next highest January in the last 10 years and more than triple those in January 2020. Even more impressive, the dollar volume of sales was five times the volume we had in January 2020. This was partly due to the sheer number of sales, but there also were some substantial commercial and development opportunities that added to volume.
"While inventory is low, we continue to see properties come on the market as sellers realize now could be the perfect time to cash out and use the equity for another investment. However, as in other areas, if you sell your property now, you may have trouble getting back into the market, so it is important to be clear on your next move.
"Buyers in 2021 need to be prepared to move quickly and decisively. Those who are waiting for the next downturn could find themselves waiting a while as all indications point to continued growth and appreciation.
"The Crested Butte and Gunnison area is unique among ski towns in that we have a lot of vacant land still available. Many buyers are choosing to build their dream home rather than try to find something existing that will work. The building process is not for everyone and there are also people building new homes for sale that will come on the market in the coming months. Planning to build is more involved than just buying a home or condo so make sure you have an expert to help you think through this process," said Crested Butte-area REALTOR® Molly Eldridge.
DENVER COUNTY
"'Desperate times call for desperate measures.' It's a saying we're all familiar with and Denver's real estate market has long-since crossed into the desperate. There is an impossibly low number of homes for sale and, in stark contrast, an almost limitless amount of competition for the few that do trickle in. This January, Denver saw 557 single-family homes enter the marketplace – a number not too far a deviation from previous years. What is strange however, is the fact that this 557 represents a 72.7% decrease in the supply – a direct metric of demand. Add to that only 213 homes available at any time vs. last January's 709 and you've got a market that closely resembles a piranha exhibition at lunch," said Denver-area REALTOR® Matthew Leprino.
DURANGO/LA PLATA COUNTY
"'Should I stay, or should I go?' This is a question many property owners in La Plata County are asking themselves. Many residents, after spending the last year locked down in their homes, have realized that it is time to make a change, but where can they go?
"January's housing stats were staggering: the number of single-family homes sold increased 40%, and the median sales price jumped 15% from the previous year. The pressing issue continues to be a lack of inventory. The number of single-family homes for sale plummeted 72% to just 108 for the entire county, which is down 80% from the same time last year. Durango's in-town single-family listings number is just 20, with only three units under the $565,000 median price.
"While single-family home sales have increased, townhome and condo sales are down almost 18% from the same period last year. Inventory is still a problem with townhomes and condos where La Plata County currently has less than a month's worth of townhome/condo inventory (or a total of 11 units) available. Vacant land sales skyrocketed over the last year since many buyers were unable to find suitable homes. Many have decided to build, however, finding a builder that has availability is almost as difficult as finding an existing home to purchase.
"What does all this mean for the market in 2021? Sellers are going to be faced with the difficult possibility that if they list, they may not be able to find a replacement property. Buyers are going to need to be prepared to make split-second decisions when making offers. Multiple-offer situations are occurring daily, and buyers must be willing to participate if they want a chance at acquiring a property. Brokers are working hard to secure additional inventory, but it is a huge task to fill the current demand of potential buyers.
"It appears that today's quest to find the perfect home is remarkably similar to the quest to find toilet paper during the early days of the pandemic. We are all hopeful that there will be a loosening of inventory this spring and summer with the seasonality the market usually experiences," said Durango-area REALTOR® Jarrod Nixon.
ESTES PARK/LARIMER COUNTY
"It's no surprise to see a drastically low Estes Park inventory compared to last year as new listings plummeted 47.6% for single-family homes. Townhouse/condo new listings are dangerously reduced as well, down 30.8% from this time last year. Closed sales remain even for townhouse/condos, but single-family homes closed were down 52.4% from January 2020. The overall inventory of homes for sale dropped 70.5% for single-family and an even steeper -76.5% for townhouse/condos. Average days-on-market for townhouse/condos reflects that strong demand for this property type. In January 2020, townhouse/condos were sitting about 124 days on the market, this year it's down to just 40. We continue to see average sales price climb with single-family homes up 2.3% to $552,200. However, townhouse/condos had an even more impressive increase from an average sales price of $354,504 in January 2020 to $464,621 this year, a 31.1% increase.
"Overall, Larimer County inventory is low, right along with mortgage rates, and is creating quite the imbalance in our local market and pushing up prices. The inventory of single-family homes for sale dropped 64% from this time last year. Townhouse/condos also fell dramatically, -53.3% from January 2020. With so much uncertainty, tighter finances and simply enjoying what is currently in hand, staying put seems safe. On the other hand, the demand for a new home experience is being driven by improved workspace, more enjoyable outdoor areas, and capitalizing on the unbelievably low interest rates. Competing with multiple offers and offers presented over asking price is the norm and helped drive up the average price 9.3% from a year prior to $522,907. Townhouse/condos have increased to an average sales price of $378,798, a bump of 8.3% from a year ago. The time to act on a new listing is short as the average days on market tightens in response to the ever-shrinking inventory. Townhouse/condos are closing in about 93 days compared to 128 this time last year. Single-family homes have reduced their days on market 14.7% going from 75 days in January 2020 to just 64 this past month," said Estes Park-area REALTOR® Abbey Pontius.
FORT COLLINS
"A Tale of Two Januarys. It was the best of times. It was the worst of times. These words ring painfully true in today's housing market. At the end of January 2020, Fort Collins had a whopping 419 single-family homes for sale in what was thought to be one of the tightest January inventories in recent memory. Interest rates had begun to fall and activity after the New Year was anticipated to be quite brisk. Multiple offers for the limited available properties drove prices higher and it looked to be the best of times for sellers and the worst of times for buyers.
"Fast forward 12 months. Interest rates are lower and buyer demand is higher and there were only 171 properties for sale. The worst of times for buyers, indeed, facing a 59% drop in availability. Nearly any property under $600,000 has multiple offers on it. Buyers are likely writing half a dozen offers (or more) before finally getting their offer accepted by a seller. This effort takes a huge emotional toll on these folks looking for a house they can call home. Yet, buyers that can waive appraisal contingencies and make offers of mostly or all-cash are winning many of these contests.
"Even the once cream-of-the-crop buyers with 20% down payment, solid credit scores, and no contingency to sell their primary residence are losing out to those with extra cash to throw at these scant few listings. Even with the limited inventory, sales are up across most price points: $400-$500k – up 78%; $500-$700k – up 50% year over year. Sellers are winning – but only if they already have somewhere else to move – otherwise, they find themselves competing for the limited resale homes or opting for new construction homes being sold far faster than builders can build them.
"Supply and demand are sharply out of balance and we can expect prices to continue to rise throughout the first half of the year (median price in Fort Collins remains above $460,000 and there's less than 30 days of inventory available). Beyond July, potential bumps-up in interest rates may occur as more people are vaccinated and the economy slowly opens up. This could slow things down a bit as buyers will lose some of the edge off of their buying power and sellers will have to adjust to less frenzied buyer demand. It will once again be the best of times but hopefully not the worst of times," said Fort Collins-area REALTOR® Chris Hardy.
FREMONT AND CUSTER COUNTIES
"Southern Colorado, specifically Fremont and Custer counties may be a little less bleak than other areas of the state. Our Custer County mountain areas of Westcliffe and Silver Cliff have a total of 55 listings in inventory. New listings are down more than 11% over January 2020 and sales are keeping an even pace with the new listings and a median sales price of $365,000.
"Looking to Fremont County, our river valley areas of Canon City, Florence and Penrose have a total of 112 listings in inventory. Here, new listings are up 5.1% over January of 2020, but new sales are also up 9.3%. With a median sale price of $290,000, we're giving buyers affordable housing with high-speed internet where they can phone it in most days of the week and travel occasionally to beat the lack of inventory conundrum of the big cities. It is a different world and COVID has taught us new ways to be productive. Rural areas are appealing to more and more people; it's a social distancing of sorts," said Fremont and Custer County-area REALTOR® David Madone.
GOLDEN/ARVADA – JEFFERSON COUNTY
"It's Groundhog Day in Jefferson County where the housing market conditions just keep repeating our low inventory high demand scenario. With new listings for single-family homes down 10.5% we have an inventory record low of 199 active homes in January 2021, a decrease of 70% from this time last year and pushing the median sales price to $550,000.
"For condo/townhomes it is again, a repeat story. Inventory is down 68% and days on market comes in at a shrinking 22. The median sales price ticked up to $300,000 with only 67 active January listings. With low interest rates and a continued influx of out-of-state buyers, we look for more Groundhog days and months ahead in 2021," said Golden/Jefferson County-area REALTOR® Barb Ecker.
GLENWOOD SPRINGS/GARFIELD COUNTY
"'How's the market?' Depends who's asking. For sellers, they rejoice in hearing statistics that include new single-family listings down 34% over last January and days on market falling 55% to a whopping 39 days. Sold listings were up 46% while pending sales rose 41%. Garfield County had a total of 99 active single-family homes in January, a 60% drop from January 2020 that brought our inventory down 66% to a new low of 1.2 months.
"The townhome/condo sector experienced a staggering 46% decline in new listings with sold listings up 25% and pending sales up 12%. There was an 8% decrease in the average sale price in this sector yet inventory remains incredibly low, just 1.7 months supply and only 46 active listings in all of Garfield County.
"In a market hurting for new inventory, we have a different conversation with our buyers, – a much harder one. As our buyers scramble to get their foot (or offer) in the door we are seeing not only the standard multiple offers and escalation clauses, but buyers taking it a step further and deleting inspection resolution deadlines, as well as other deadlines or contingencies they can to make their offer the most appealing.
"The law of supply and demand, coupled with high cost of new construction are creating the perfect storm in Garfield County, with no end in sight," said Glenwood Springs-area REALTOR® Erin Bassett.
GRAND JUNCTION/MESA COUNTY
"Mesa County real estate continues to be a challenge with low interest rates spurring buyer interest and activity only to struggle to find something they qualify for. At end of January, there were just 337 active listings of single- family and townhouse/condos, which is down 53.5% from the same time last year, and down 90 units since December 2020. Demand continues to push prices higher as the median price rose 11.5% year over year to $295,350, up $5,000 since December 2020. The average price rose 16.4% from January 2020 to $341,093, up $16,000 since December.
"There were just 269 new listings in January as pendings rose 14.9% and solds dipped 3.5% compared to last January. With just a one-month supply available, 2021 looks like it might be a challenging year. The tightness in inventory is also affecting the rental market, as if potential buyers can't buy, then they are renting, and that is pushing vacancy rates down, and rental rates up," said Grand Junction-area REALTOR® Ann Hayes.
PUEBLO
"We've started out the year just okay as the lack of inventory remains the biggest issue. Active listings fell 60.3% from January 2020 to 156 as the months supply of homes hit 0.6. New listings were down 11.6% to 245 from January 2020 as pending sales rose nearly 11% and solds fell 7.7% compared to January 2020. Our median sales price rose nearly 30% year over year to $258,000 and we continue to have multiple offers for buyers to contend with. Bottom line, it's still a great time to be a seller, not so great for buyers. Our new home sales remain very strong and builders simply can't build fast enough for the demand," said Pueblo-area REALTOR® David Anderson.
STEAMBOAT SPRINGS/ROUTT COUNTY
"The Good, the Bad and the Ugly. Once Upon a Time in the West, before COVID-19, the Routt County real estate market was almost a balanced market with 6.7 months' supply – a pretty equal playing field for both buyers and sellers. The tide has changed with only 1.4 months supply and I think to myself- what would Clint Eastwood say?
"What a difference a year makes. As we rang in 2021, low interest rates, 'the good,' continue to be a driving force in real estate. Low inventory, 'the bad,' remains a problem and although new listings were up in single-family (26 vs. 13), multi-family listings were less (35 vs. 37) than a year before. Active listings were at 48 for single-family and 48 for multi-family, down 74.2% and 69.8%, respectively from December 2019. This creates for buyers 'the ugly,' multiple-offer situations. But as they say, beauty is in the eyes of the beholder and this multiple-offer situation is a beautiful thing to sellers.
"In this market, there are two kinds of buyers; those that have cash and those that finance. The buyers that have a 'fistful of dollars' make up 50% of our transactions. Our buyers are 50% local; the other 50% is comprised of 25% from the front range and the balance from out-of-state. January realized 24 single-family sales with a median sales price of $850,000 (four sales above $1.95M) and 36 multi-family sales with a median sales price of $620,000 and average sales price of $721,983.
"We can expect to see more inventory come on the spring market. Sellers who short-term rent their condo typically wait until after the ski season to list their property when the rental season is quieter. Buyers hope that buyer's agents will make their day and a good broker will instruct their clients that if you want to play the game, you'd better know the rules. A buyer may feel like they are in the line of fire, but a good buyer always knows their limitations," said Steamboat Springs-area REALTOR® Marci Valicenti.
SUMMIT, PARK AND LAKE COUNTY
"While we continue to wade through the health crash that has impacted our economy, there are many sectors that are struggling to survive but real estate is not one of them. There are a total of 124 listings in all of Summit County ranging in price from $266,250 for a Keystone studio and topping out at almost $19 million for a Breckenridge home. Dillon has 8 listings, Frisco just 2. The other side of this story is the number of pending listings – an awesome 471 listings on the way to closing. January 2021 had 42% fewer active listings from the prior January however, the number of sold listings was up 27%. This shows that buyers are still wanting more and are willing to pay on average $1.5 million for a single-family home and $672,000 for a multifamily property. The ski resorts are busy on the weekends. Tourists, second homeowners, and other visitors are recreating in the county and many recognize the joy they can have by living and working either full or part time in the mountains. Many locals are staying put in their homes as the local percentage of sales has dropped to about 21%, front range buyers make up 47% and out of state buyers 32%," said Summit-area REALTOR® Dana Cottrell.
TELLURIDE
"Ho hum – another record month in Telluride with 64 sales totaling $81.94 million in January representing a 49% increase in number of sales and a 69% increase in total dollars over January 2020. Most noticeable was the drop in sales in the Town of Telluride due to a severe drop in inventory. We just listed a 2BR/2B condominium on Feb. 6 at $1.2 million. It is the only 2BR/2B condominium for sale in the Town of Telluride below $1,499,000.
"For the first time in years, January sales volume was carried first by the Mountain Village, and then by sales out of both town primary on the surrounding mesas and subdivisions. Ironically, January was down from the last six months of 2019 monthly sales averages. Lack of inventory will continue to be the major story for the remainder of 2021 sales volumes," said Telluride-area REALTOR® George Harvey.
VAIL
"January 2021 sales have started off as a mixed overall market with single-family/duplex units a negative 28.2% and townhome/condo units positive 97.1%. This type of variance can be caused by one key factor, inventory. The chart below demonstrates the significance of the situation. The new listing stats have single-family/duplex negative 11.5% and townhome/condo units up 36.5% versus 2020. Pending contracts remain strong at +45% and +21.6%, respectively. Days on market was negative 21% for single-family/duplex properties and negative 33.6% for townhome/condos which shows the strength of buyer activity in the market. However, the months of supply of inventory for single-family/duplex is 2.2 and 2.7 months for townhome/condo which is problematic. The market continues to be strong and basic economics cause the supply and demand curve to drive pricing upwards," said Vail-area REALTOR® Mike Budd.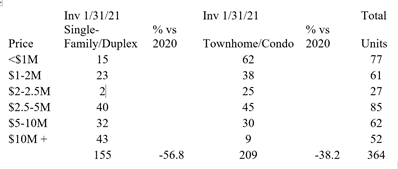 ###
CAR/SHOWING TIME RESEARCH METHODOLOGY
The Colorado Association of REALTORS® (CAR) Monthly Market Statistical Reports are prepared by Showing Time, a Minneapolis-based real estate technology company, and are based on data provided by Multiple Listing Services (MLS) in Colorado. These reports represent all MLS-listed residential real estate transactions in the state. The metrics do not include "For Sale by Owner" transactions or all new construction. Showing Time uses its extensive resources and experience to scrub and validate the data before producing these reports.
The benefits of using MLS data (rather than Assessor Data or other sources) are:
Accuracy and Timeliness – MLS data are managed and monitored carefully.
Richness – MLS data can be segmented
Comprehensiveness – No sampling is involved; all transactions are included.
Oversight and Governance – MLS providers are accountable for the integrity of their systems.
Trends and changes are reliable due to the large number of records used in each report.
Late entries and status changes are accounted for as the historic record is updated each quarter.