Documentary film fest to host small, in-person festival gatherings
Special Thanks Bria Light, Telluride Daily Planet Staff Reporter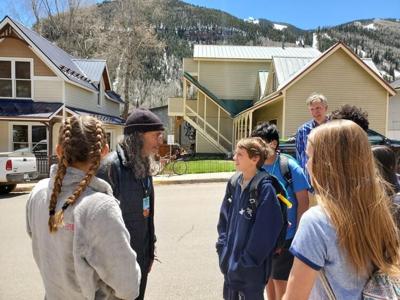 For many film lovers in the Telluride area and beyond, the word "Mountainfilm" conjures not only images of intro reels in darkened theaters, ice cream on Main Street and stars sparkling over the big screen in Town Park, but also a unique combination of experiences: inspiration welling up during talks and films, the expansion of one's mind while diving into new topics and the feeling of connecting with others.
Last year, at the early onset of the COVID-19 pandemic, it came as a blow to thousands when the virus forced the cancelation of the in-person festival, an annual source of inspiration and herald of the summer season in Telluride. This year, Mountainfilm festival fans can celebrate a step towards normalcy. Earlier this month, festival organizers announced plans to hold a scaled-down version of the in-person festival, along with another year of robust online programming for those who wish to stay home or cannot attend.
"We've got some pretty incredible guests in the works coming to give presentations or Q&As following their films," marketing manager Cara Wilder said. "Mountainfilm has a way of lighting that fire in our souls — something we could all use a little more of after the last year. We are hoping by being able to have a couple of small, in-person screenings that we can reignite that energy, even if it looks a little different."
This year's in-person offerings will not match those rosy memories of large crowds of mingling festivalgoers, and festival organizers want to be clear that "because of the pandemic, this festival will look much different than previous Mountainfilm festivals," as stated on thewebsite. Events this year will occur primarily in outdoor venues, guests can expect smaller-than-usual capacity limitations and ticketing will be done via an online reservation system. All events will follow state and local requirements for COVID-19 precautions, and events may be subject to last minute changes or cancelation, if necessary.
That said, organizers are "working to scratch that itch with a small, in-person event" to the degree public health regulations allow, while maintaining a safe environment for festival participants. In January, Mountainfilm announced its 2021 guest director, mountaineer and local Telluride resident Hilaree Nelson, who herself has been the subject of many films screened at Mountainfilm, as well as a longtime festival attendee. Nelson, in addition to her impressive achievements in mountaineering that include the first ski descent of Lhotse, is also an activist who has worked with Protect Our Winters, a nonprofit to protect wild spaces.
"Having lived in Telluride for nearly 20 years, Mountainfilm means the world to me," Nelson said in a news release announcing her guest directorship. "It marks the transition from winter to summer and, like the natural swing of the seasons, the festival is about growth, it's about being inspired: a community seeking to change the world for the better through shared ideas and exploration. It's a time when we come out of our winter shells and engage with people through films, on the sidewalk and on the trails."
This year, in-person festivalgoers will have the opportunity to connect once more, especially in outdoor spaces and venues. Due to the potential for change to the planned 2021 in-person festival, organizers encourage those interested in participating in this year's Mountainfilm festival to strongly consider Mountainfilm Online as an option, which still provides the sense of awe and connection through watching eye-opening films with loved ones from the safety of home. The online festival will run for seven days, with passes currently on sale for $150 for an individual or $250 for a household pass.
As organizers stated earlier in March: "We get it. You miss Mountainfilm and we miss you." This May, whether attending an in-person festival event over Memorial Day weekend from May 28-31 or enjoying the online festival from May 31 to June 6, fans of the documentary film festival will have options to watch films, connect and embrace new ideas.
"We are so stoked to have the opportunity to bring some semblance of Mountainfilm to Telluride, even in this scaled back version," Wilder said. "While the in-person festival is exciting, and we know folks are craving those experiences, we do recommend the online festival as the best opportunity to see most of what Mountainfilm 2021 has to offer."