Leave No Trace when recreating in desert environments
Special Thanks Bria Light, Staff Reporter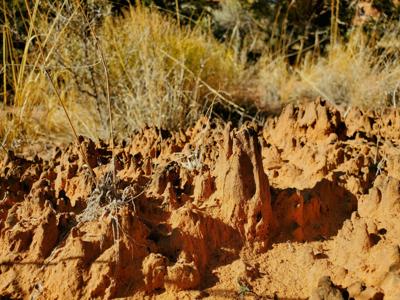 It's that time of year again when residents of the Telluride area flock to the surrounding deserts, scaling red rock in Moab, searching for petroglyphs in Paradox and basking in the warmth of the newfound turning of the seasons. As numbers of visitors increase to delicate desert environments, however, land management agencies and visitors themselves have often noticed the effects: toilet paper festooned in brambles like unsightly decor, trash scattered across campsites and footprints smashed into delicate living soil.
Krys Smith, recreation officer for the Grand Mesa, Uncompahgre and Gunnison National Forest, says it's often a matter of education: in her experience, the majority of the general public is unaware of the delicate nature of desert environments and is unfamiliar with concepts like "Leave No Trace."
Leave No Trace, a nonprofit organization as well as a concept, promotes the idea that visitors to outdoor spaces use best practices for different ecosystems to minimize human impact to the landscape and its flora and fauna. While some things may seem obvious, like taking care to pack out trash, other things, like walking on durable surfaces rather than soft soil or off-trail, may not be a given to new visitors.
In the desert environment, cryptobiotic soil, also known as biological soil crust, is especially vulnerable to human trampling yet is an unsung hero in ecosystem health. This type of soil, which appears in its mature stage as tiny towers of bumpy, darkened dirt, is home to cyanobacteria, green algae, fungi, lichens, mosses, and other tiny organisms. It helps protect the soil from erosion and maintains moisture in the soil, critical roles in dry desert landscapes.
"It can take from several years to over 100 years in some cases, for soil to regenerate if disturbed by human causes," noted Smith.
To reduce harmful impacts, she advised, keep to established trails and roadways, and avoid trails or doubletrack roadways that look like the result of visitors driving or walking repeatedly over unauthorized areas. When possible, walk on rock or in washes like dry creek beds instead of on soft soil. Furthermore, choose camp spots in pre-existing sites, either in established campgrounds or in sites that already show signs of use, like a campfire ring. When leaving, make sure to do a sweep of the area, taking any trash with you even if it isn't yours.
Another area of growing concern as visitors to desert landscapes increase involves a topic some find a bit embarrassing: poop. Everyone does it, but not everyone knows just how to handle it when nature calls while they're in, well, nature. Especially when in desert environments, it's important to make sure your habits don't stink.
Sarah Burak, manager of the Bears Ears Education Center, noted that "human waste management" as well as pet waste poses one of the biggest problems in popular desert recreation areas.
"Go before you come, if you can," she recommended, noting that if not possible, the center promotes a "pack it out" ethic for which their visitor center provides free wag bags, specially designed waste disposal bags. The bare minimum for proper number two etiquette, she said, is to dig a cat hole at least six to eight inches deep and at least 200 feet from water and pack out your used toilet paper.
Smith noted that much of the mess arises when visitors simply don't know what to expect in the way of facilities before heading out to natural spaces, something that can be remedied by following the Leave No Trace principle of "Know before you go" and planning ahead by checking local resources.
"I think there's a common misconception with the public when it comes to recreating that there will be trash or bathroom facilities spread throughout public land," Smith said, something that is not true for many popular outdoor destinations.
"No one likes to talk about poop, but we have to," said Megan Eno, also of the Forest Service. "Bury properly in a cat hole, or better yet take it out with you! Wag bags, lidded buckets there are lots of sanitary options out there. Anyone who's been on a river trip or hiked above tree line can tell you how it's done. There are few things worse than digging up the last camper's cat hole at a popular spot. Yuck."
Finally, Burak noted that one of the powerful draws of places like Bears Ears Nationa Monument stems from the area's rich and well-preserved history as a homeland for ancient cultures. Visitors can marvel at petroglyphs and handprints etched and painted onto cliff walls hundreds of years ago, wander through ancient town sites and cliff dwellings and even find cultural artifacts such as arrowheads and potsherds.
The long and short of it: don't take artifacts with you, and keep your paws off the walls.
"Don't make your own rock imagery or touch rock imagery," said Burak. "Don't climb on ancient structures. There's a sense of history and culture in these places when we leave these sites intact. If you leave the site as you found it, the next person can have that same sense of awe and discovery."