Ticket sales begin today, May 19 for films and in-person events
Special Thanks Bria Light, Staff Reporter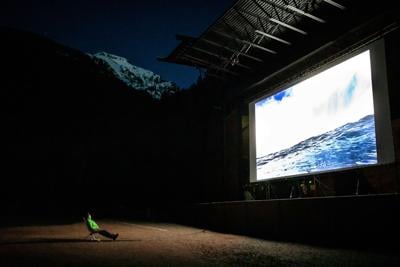 "In a post-COVID world, we're really feeling like everyone needs a sense of renewal and hope," said festival director Suzan Beraza, noting that many of the lineup's films and events evoke that much-needed feeling of connection and optimism after a year of pervasive isolation and despair.
This year's in-person festival will be a smaller, more intimate version of the pre-COVID festivals, with limited seating, a smaller roster of events and venues and no shared community meals like the traditional ice cream social or public awards picnic. But that's not necessarily a bad thing, as organizers embracing the spirit of close-knit intimacy to cultivate opportunities for a brand of connection and conversation that can sometimes get lost in the whirlwind of a massive international gathering of thousands.
"It's almost going to feel like Mountainfilm 1983, a bit of a throwback," Beraza said, adding that locals can look forward to an inclusive festival with even more opportunities to chat with filmmakers and subjects, many of whom will be present in Telluride for the festival.
"A lot of filmmakers are coming everyone's been in their homes for so long and they're ready to do something," she said. "They're vaccinated, they feel safe. So there's going to be a great representation as far as Q&As with amazing speakers, filmmakers and subjects from films."
One such speaker is Dr. Julie Holland, whose work as a psychologist and psychopharmacologist examines the connection between psychedelics and mental health. She'll be expanding on some of her findings in a talk titled "Good Chemistry," which also the name of her latest book that explores the science of connection and "why we need it, how we've lost it, and how we might find it again." In addition, Dr. Holland will also speak at the Wilkinson Public Library, with "Good Chemistry" featured as the festival's "Town Read," and the first 25 people to register for the library event can pick up a free copy of the book from the library.
The festival lineup also boasts several world premiers, including the feature film "The River Runner," a chronicle of expedition kayaker Scott Linden's multi-decade pursuit to paddle the four rivers that originate from Tibet's Mount Kailash. The churning waters he navigates offer an apt background for the story of Linden's battle to reconcile a life-changing diagnosis with an adversity to emotional vulnerability.
In another world premiere, "Buried," filmmakers Jared Drake and Steven Siig dive into the fateful events of a 1982 avalanche at the Alpine Meadows ski resort in California, one of the nation's most avalanche-prone resorts due to a combination of steep terrain, powerful winds and shifting temperatures.
Both films, along with many more, will be screening free and open to the public at both Base Camp and Lawson Hill outdoor venues. Base Camp at Town Park and Lawson Hill at the sports field will host the festival's two free venues for nightly films on a first come, first served basis. Though outdoors, crowd sizes will be restricted, and those who wish to attend are encouraged to arrive early, with venues opening for seating at 7 p.m. with screenings to begin at 8:30 p.m.
For this year's ticketed films and events, meanwhile, the usual pass system has been replaced by an individual ticketing system. Tickets must be pre-reserved in advance for $20 per event or screening, with sales beginning at 9 a.m. on Wedesday, May 19. The festival will also offer an online option for the second year in a row, with virtual access to films and events running from May 31 through June 6.
"We are so excited about our lineup this year," said program manager Lucy Lerner. "It's very strong and it harkens back to the original spirit of Mountainfilm.