Proof of vaccinations, other measures reflect ongoing COVID-19 concerns
Special thanks Suzanne Cheavens, Associate Editor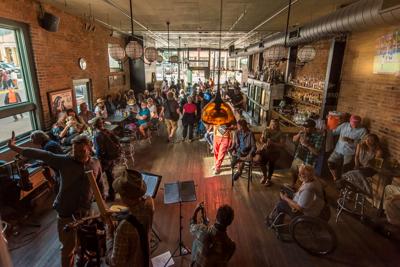 No vaccination card — or negative COVID-19 test — no wristband. That's the reality of a festival during a pandemic. SBG Productions, which produces this weekend's Telluride Jazz Festival, recently announced its new policy, one that seeks to ensure the safety of its passholders, crew, volunteers and artists.
In addition to requiring proof of vaccination to pick up a wristband, the festival, which is capped at 3,000 tickets, has expanded the size of the festival perimeter in order to give patrons ample room to spread out. The stretched boundaries add approximately 75,000 square feet to the space the small gathering usually occupies. The measure was designed to give people a greater comfort level by expanding into Bear Creek Field, adding to the customary space on the Little League field and the festival field in front of the Town Park stage.
"The added space will allow a larger geographical footprint for attendees to spread out in small groups," festival officials said in a statement.
There will also be designated pathways painted on the ground with directional signs posted, changes intended to direct the flow of traffic on the festival grounds. Sanitation measures will also be ramped up with increased sanitization stations, hand washing stations and sanitization of high-touch areas.
But the most telling indicator that the coronavirus still has its hold on how public events are conducted is the implementation of either proof of vaccination or a negative test for entry. According to a statement from SBG Productions, for those unvaccinated, free testing will be available on-site provided by Curative, a mobile testing center. Document verification will take place at a health check-in station, located next to the festival box office (300 E. Pacific St.), prior to approaching the box office. Once health documents have been verified, participants can continue to the box office to exchange tickets for wristbands. Proof of vaccination or negative COVID-19 test is only required to be shown once during check-in. After check-in, there will be an express entry lane to the festival for those that have received wristbands.
The community has been mostly supportive of the vaccination or negative test requirement, said SBG Director of Marketing Jacob Bomersback.
"The announcement was received with mixed responses but it was overwhelmingly positive," Bomersback said. "We know that we're making the right decision to protect our community and attendees. We're also seeing an industry-wide trend with these types of entry requirements for live music. Large-scale events like Lollapalooza and Bonnaroo required and are requiring similar entry requirements."
SBG Director of Operations Courtney McClary serves on the board of directors for nonprofit Colorado Independent Venues Association (CIVA). Given that, in Colorado, the entertainment industry is the third-largest economic driver (behind mining and tourism), creating safety protocols is a way to get venues, entertainment organizations and artists back to work after a devastating 2020. CIVA, a state branch of National Independent Venues Association (NIVA), is following the industry toolkit the national nonprofit recommends. NIVA stresses safety first as more venues open and events move forward.
"There will be challenges: many people are vaccinated, but the United States has not yet achieved herd immunity; everyone owns a face covering, but convincing them to wear it requires effort; physical distancing is well known, but people want to be together after more than a year apart," according to the NIVA website. "We are not epidemiologists, we are event industry professionals, so we have followed the science from the Centers for Disease Control and Prevention and other public health experts. Even in this unsettled economic, social, and public health environment, the one non-negotiable goal is putting life safety first. Everything else involves choices"
LISTEN TO THE MUSIC
You've shown your vax card or you've tested negative and received the wristband to show for it. You're in. This weekend is the first time Telluride Town Park has hosted a festival since Telluride Bluegrass Festival's back-to-back weekends in June. That festival — reduced to just 2,500 attendees per day — demarcated the grounds in roped-off pods, where groups of people lounged and soaked in the sun and the music.
Ah, yes, the music. For many, the experience of hearing live music tops the 2020 list of "what I missed the most." The wait is over for fans of Telluride Jazz Festival and its eclectic lineup, an impressive offering dotted with both established acts and new faces on the scene.
Friday's headliner is cutting edge pianist, Robert Glasper, whose music brings in elements of hip-hop, jazz and soul to the fore, an infusion that is fresh and modern while honoring his influences. Glasper is a visionary artist who played with luminaries such as Christian McBride, Roy Hargrove and Terence Blanchard before striking out on his own, remarkable musical journey. The auteur of 2013's "Black Radio," and an avid collaborator, Glasper will join the pantheon of jazz greats like Miles Davis and Thelonious Monk.
No ticket Friday? Lucky you, as KOTO is broadcasting Friday night's music from Town Park, marking a return to Jazz after a long hiatus. Friday's live broadcast begins at 5 p.m., when The Dip takes the stage, followed by Hot Buttered Rum at 6:30 p.m. before Glasper's 8 p.m. set.
Saturday in the park is a celebration of the Crescent City. The storied Preservation Hall Jazz Band from New Orleans headlines a massive day of music that also features The Budos Band, Allison Miller's Boom Tic Boom and more.
On Sunday, Galactic, a dynamic band that is beloved by our little music-mad town. No strangers to the valley, the New Orleans ensemble is returning for another electrified delivery of its hard-to-pigeonhole sound. It being Sunday, the day begins with gospel music, of course, this year as performed by The Harlem Gospel Travelers.
No ticket? No problem. There's tons of free music to take in this weekend. Thursday evening is Jazz on Main from 4-6 p.m., a progressive musical feast featuring jazz combos in venues along Main Street. Get a taste at Elinoff Gallery, Floradora, La Cocina de Luz patio, the New Sheridan Historic Bar and the Last Dollar Saloon.
In Elks Park, Friday through Sunday, there's programming on the Society Stage from late morning until mid-afternoon.
For the complete schedule, go to telluridejazz.org, click "Lineup" and select "Schedule" from the dropdown menu