Telluride Fire Festival Introducing a New Venue for Outdoor Fire Art!
Press Release - All Content, Including Images, courtesy of HighCountryShopper.com
Updated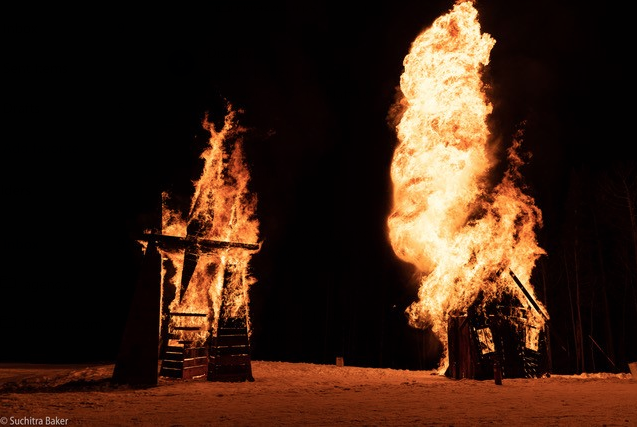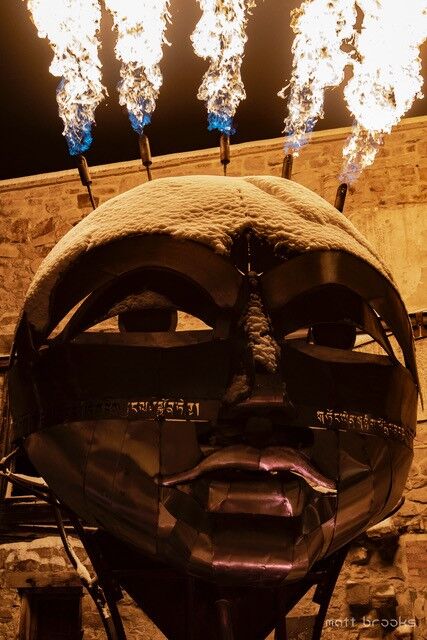 The annual gathering of flame-inspired art is being reimagined by Rocky Mountain Arts for this December 3-5 with fire art installations and fire performances outside at the historic Pandora Mill at the end of the box canyon. Newmont Corporation, the parent company, has given permission for the first-ever outdoor event in this awe-inspiring location framed by the majestic mountains.
The fiery event will offer art and culture to all, safely. Masks will be provided for those that don't have them at the one indoor theatrical event. "We want to continue to support artists and we can and will do it safely, said Chris Myers," Board President.
Expect over-the-top fiery art shooting flames high into the night sky at the 7th annual Festival. There will be many activities including the family friendly event at the Michael D. Palm Theater, which will enchant all with dance, acrobatics, lyra, and cyr performances.
The Talent Local and regional artists participate in the Festival from Denver, Durango, Carbondale, Phoenix, and Telluride.
Free Teen Art Installation Workshop This year we are teaming up with the nonprofit True North Youth Program for a free weekend workshop in November to create an art installation for the Festival. This workshop was created and designed specifically for teens from the rural San Juan region who have limited access to resources and opportunities. Alpine Bank is sponsoring this teen workshop.
Event Activities Friday—Dance and acrobatic performances at The Palm Theater in collaboration with local Telluride Dancers and Homestead Circus Productions out of Paonia.
Saturday—Resurrection—an outdoor fire dancing, flaming art, and sculpture burn will showcase spectacular propane fired art and wood sculptures on display during the day, which will then ceremoniously burn to the ground. Guests will have the opportunity to see fire dancers and watch flaming fire art, listen to music and enjoy cocktails from the cash bar.
Saturday and Sunday—Free flow arts workshops at the Wilkinson Public Library. Five free workshops are being offered, which include juggling, stilt walking and Clowning.
About the historic Pandora Mill for the Festival's Signature Event The Festival's signature event this year will be at the end of the box canyon. Newmont Corp, has generously gifted this space to the Festival for one night. Outside, adjacent to the historic Pandora Mill, guests will watch larger-than-life wood sculptures burn, flaming propane art installations, and fire spinners—all alongside a stunning backdrop of steep forested mountains and cliffs.
The Pandora Mill at the end of Telluride's box canyon was constructed in 1921 to process the gold, silver, copper, lead and zinc ore mined in the high country above Telluride, and remains one of the last standing and most significant structures from the mining era. Newmont is working with the county on a plan to preserve this historic structure. Currently they are working on a way to fund the restoration and continued maintenance of the 75,000-square-foot iconic building.
"Newmont Corporation's, Devon Horntvedt was thrilled to support the nonprofit and give us the green light to hold a safe outdoor event next to this icon," said Erin, Executive Director.
Current Sponsors AmeriGas, Alpine Bank, Colorado Life Magazine, Crooked Stave Artisan Beer Project, The Hotel Telluride, Kure's Ginger Beer, Mountain Town Magazine, New Sheridan Hotel, Newmont Corporation, Scott's Printing, SilverStar Luxury Properties, Telluride Ski & Golf Resort, Telluride Alpine Lodging, Telluride Express, and The Victorian Inn.
Telluride Fire Festival and Rocky Mountain Arts Rocky Mountain Arts, a 501c3 organization, produces the Telluride Fire Festival, whose mission is to create and sustain interactive and performing arts, that provide a platform for artists to entertain, educate and promote their work. Rocky Mountain Arts also provides year around programs for youth and adults to become involved in diverse and exciting experiences that encourage artistic growth through a focus on process and experimentation that builds confidence and resilience.
For more about the Festival, to become a sponsor, volunteer, submit an art installation or subscribe to their enews, visit www.telluridefirefestival.org.