Telski replacing Lift 9, eyes more hotel beds
Community update includes future goals, needs
Special Thanks Justin Criado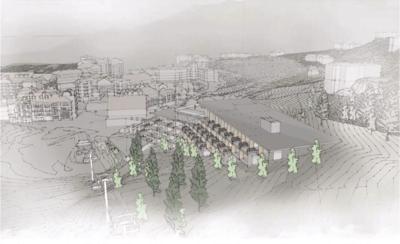 Telski hosted its second community meeting regarding its previously announced $102 million capital plan Tuesday night at the Telluride Conference Center in Mountain Village.
Co-owner Chad Horning and Jeff Proteau, who oversees special projects after stepping down from his longtime position as the resort's vice president of planning and operations, presented updates on lift replacement, affordable housing and hotel hotbeds, which Horning explained is key to the resort's plans for improvements.
"We want to see this ski resort become one of the top destinations in the world. We really mean that. We've accomplished a lot to become one of the top 10 destinations in North America, but we want to be one of the top destinations in the world. It's a big thing to say, but we absolutely mean it," Horning said.
He added that preserving the culture, keeping lift lines short and further improving the on-mountain experience are three aspects that continually need to be addressed in order to achieve that goal.
"We have to preserve our culture. We got to preserve the culture of the people who work here and live here. We have to preserve that. It's one of the things that makes this place really special," Horning explained. " … We have to keep short lift lines. I don't know how many people are here because there are short life lines."
Another big update Tuesday relating to wait times and capacity was the news that the resort will replace Lift 9 this summer.
"We're going to go ahead and upgrade to a detachable quad in the Lift 9 area," Proteau explained. "The lift that we have now is really old, and it just struggles with the numbers that we have in that area. A new lift here will just change everything."
The announcement was met with applause. The upgrade increases the lift's capacity from 1,000 people per hour to 1,800, which will help disperse people on the mountain.
"It's not that we're going to have an 80 percent increase in the traffic going up. We're going to be able to handle the busier times better and spread people out. We have plenty of terrain in the Lift 9 area," Proteau added.
The resort has also already upgraded snowmaking and avalanche mitigation equipment, as $30 million of the estimated capital plan budget is earmarked for such improvements.
Increased capacity makes for a more enjoyable experience, Horning explained in talking about attracting more people to the resort during the slower parts of the season. While the holidays are typically the busiest times of year, with up to 6,000 people on the mountain per day, spreading visitation out throughout the winter will boost not only the resort's business, but the local economy, he added.
"That's when we don't stress anything in the community. We don't stress businesses. We don't stress workers. We don't stress anything. … That's when we need the people here." Horning said of those slower times of the year.
Creating more hotel beds is an important piece of that puzzle, he said, reiterating the same message from the initial Oct. 6 meeting.
"Question I always get asked is if we got all this capacity, and we can't put this many people here, why do we need more hotel rooms. It's a really basic question, and I get it all the time. The answer has many layers to it. A piece of it is the groups of people we need coming here during these periods, these high-end groups that spend a lot of money in our community, don't have enough hotel rooms of the type they want to come here," Horning explained. "Ninety percent of the people that we try to bid on to have come here won't even consider us because we don't have a proper (name brand hotel), don't have the proper hotel rooms, have the proper standards. … In many cases, we don't have enough rooms under one roof. To get these periods full, we actually need more beds. We need more hotel rooms. We need more hot beds. We don't need them everywhere, but we need to plan for what we need, and we need to execute and get behind it."
He shared hotel bed statistics of comparable ski towns, including Crested Butte, that all have more hot beds than Telluride and Mountain Village's 1,129 combined. The resort believes 1,275 more beds are needed to help the growth Horning has explained through the community meetings so far. The number isn't necessarily a hard and fast statistic, but it should give everyone an idea of what the plans are, he added.
"Is it possible to even get these additional 1,275 hotel beds? I have no idea. But I can tell you there's not platted land for it today. What else I can tell you is if we did get it it's over the next 20 years, maybe 30 years, maybe even longer. It's a very long-term plan,&rdquo Horning said. "What's important today is we have some sites left that are set up for hotels. We don't want to lose those sites. If we're not focused on the end goal, we're going to lose those sites. If we lose those sites, we're never going to get them back."
He shared two potential sites that could be future homes to hotels, including the land abutting the Mountain Village gondola plaza near Lift 4, which is called Parcel G. There is room there for a 75-room hotel, plus retail and restaurant space.
Development of three areas surrounding the Peaks Resort & Spa could also add an additional 150 rooms to the hotel through expansion.
Horning pointed out that no plans have been submitted for approval or underwent any official review process at this point.
"These are ideas. These are concepts. These haven't been submitted for approval," he said.
He also provided brief updates on two of the resort's current affordable housing projects, as he did last time, in Ilium and the Meadows area of Mountain Village. The Ilium housing will be done before the newer Meadows initiative, as the resort is still working on details with the town.
Horning concluded the presentation with a recap of the Telluride short-term rental ballot initiatives, which he explained during the October meeting, though he did not publicly speak for or against either of them at the time.
"Telluride had their ballot initiatives, and it was something we talked about last meeting. It was something that was very concerning to us. We felt like the community in Telluride might be saying we don't want visitors anymore. They actually wanted to reduce the amount that was coming in. We understand why, because things are busy. We understand the housing challenges. Question 300 did not pass. That would have been a challenge for us in understanding what they community was really wanting. 2D did pass," he said to applause, before adding that 2D was more about, "let's take a minute, let's stop what we're doing, let's reassess and figure out where to go from here and let's get focused on workforce housing. At least that's how I look at 2D. We think that's really positive to have."
Ballot Question 2D includes a two-year pause on the issuance of new short-term rental licenses through November 2023 and aims to generate $200,000 annually through an 100-percent increase on short-term rental licensees. Question 300 aimed to limit short-term rentals to 400, though primary residents were exempt from the cap.
Horning also urged people to get involved in the capital plan process, as well as similar initiatives like Mountain Village's Comprehensive Plan Amendment Process, which is part of Thursday's regular council meeting.