Telski plans three new trails
Special Thanks Eva Thomas, Staff Reporter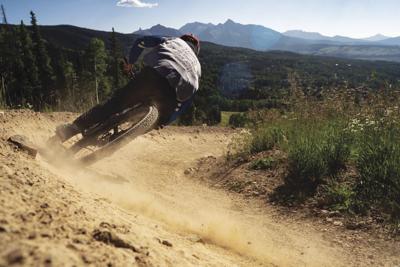 This summer, those looking to fly down the mountain can expect around five more miles of new terrain at the Telluride Ski and Golf Resort Bike Park. The bike park features a variety of interconnected trails, including freeride, technical, and cross-country trails.
"We're going to be working on three new trails this season. The one that we're most excited about is called Crystal Trail. It's going to be an intermediate flow trail that will extend off of Tommyknockers," said Scott Pittenger, Telski's director of mountain operations.
Crystal is a flow trail, meaning it is gravity fed. The trail does not require pedaling or much braking; instead you "flow" down the mountain. The bike park is scheduled to open June 18, and Pittenger expects Chrystal to open mid-summer.
The next trail they are in the process of building is "La Cura." The new development is a unique style of trail that will be a hybrid between a technical and a flow trail. La Cura will have turns, jumps, manicured sections and technical riding and will be classified as "advanced."
"This is one that really gets our bike park crew and some of our locals excited. It's the cure for people that not only want technical or not only want flow. It's the new way we would like to start seeing more trails built," Pittenger said.
The third new addition is the completion of the Meridian Trail. Half of the trail opened last year from the top of Lift five to what Pittenger referred to as the "Papa Smurf" downhill.
The completion of the advanced Meridian Trail aligns with Telski's goal of the bike park expanding outside of single-faceted flow and technical trails. The finished length of the Meridian will be approximately 3.2 miles and is considered a cross-country trail.
"This is creating opportunities for a more diverse day on our mountain where you can do some downhill and not worry about pedaling for a while. Then you can go out, do a pedal, and come back and do some more downhill laps and be able to fill up a big day or big weekend riding on the resort," said Pittenger.
According to Patrick Latcham, Telski's vice president of sales and marketing, one doesn't need to spend an exorbitant amount of money on a mountain bike to enjoy the park, although he strongly recommended having a bike with suspension or a full-suspension bike and disc brakes. A full-frame helmet, gloves, and knee and elbow pads are also vital in helping protect against serious injury.
"Getting a rental bike is a great option," said Latcham.
Bikes can be rented in Mountain Village or the Town of Telluride. Similar to reserving ski gear, Latcham recommended purchasing gear and renting bikes in advance to guarantee you will have equipment.
The bike park can be intimidating, especially for beginners and even for some intermediate riders. Latcham and Pittenger advised checking out the Gold Bug Loop at the base of Lift four or taking a ride along the Valley Floor to get an idea of the inner workings of your bike.
In 2022, the mountain will have 16 downhill trails, which are bike accessible only, seven multi-use, meaning bike and hike accessible, and then three hiking-only trails.
Latcham also reminded bikers that Prospect Basin would be closed from May 20 through June 30 to protect the elk and their newborn spring calves.
To contribute and help enhance the surrounding area, Telski is donating $25 to the National Forest Service from each cross-country and adult bike park season pass sold this year. Latcham predicts Telski will raise around $40,000 for local trails outside of their network, like the Jud Wiebe and Eider Creek trails. The money would go towards maintaining regional trails for public use.
For those searching for more adrenaline or not interested in biking, the Telski Canopy Adventure Tours will be in full swing starting June 18, coinciding with the bike park's opening. This year marks the second season the canopy tours will be in operation. The experience lasts around three hours and zip lines can exceed 1,200 feet in length and 100 feet in the air.
"It's such a cool experience. Coming from somebody who's never done zipline or anything in my life like that, and to hop on this one was exhilarating," said Pittenger.
A lot has changed in the past few years regarding summer activities on the mountain, explained Latcham.
Five years ago, the Telski Bike Park and Canopy Adventure Tour didn't exist.
"Seeing us offer more and more in the summer has been really fun to watch," said Latcham, "And the canopy has been a great addition to those summer offerings."
For more information about the bike park, canopy tours, and other summer offerings, visit tellurideskiresort.com.