Telluride Yoga Festival set for this weekend
Nation's longest-running gathering begins Thursday in Mountain Village
Special Thanks: Eva Thomas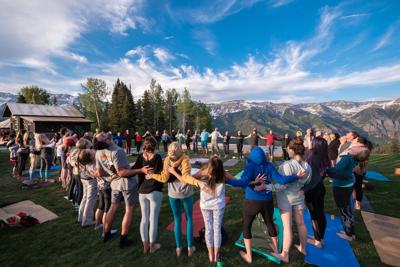 Take a deep breath and roll out your mat because the 2022 Telluride Yoga Festival starts tomorrow (Thursday). The festival began in 2007 and attracts over 1,000 attendees each year, making it the longest-running yoga festival in the nation. For the past few years, the festival has been based at the Telluride schools campus, but organizers are moving the campus back up to Mountain Village this year, explained Erika Henschel, who purchased the festival in 2013 with co-owner Albert Roer. Almost every plaza and space in Mountain Village will be utilized for the festival, which runs through Sunday.
"The natural beauty of Telluride is undeniable, which makes it a perfect location for a yoga festival. Doing yoga at sunset at the top of San Sophia Overlook is something you cannot match anywhere else in the world. From the awe-inspiring mountains to the charming towns, to its being a pedestrian-friendly festival, it's the perfect setting for a transformative weekend," Henschel said
Over 40 presenters are on the lineup. According to Henschel, organizers look for instructors that fit the "energy of Telluride." The lineup includes local, national and international instructors who offer different styles of yoga. Henschel is especially excited for American vocalist Krishna Das' performance at the Telluride Conference Center on Saturday at 8 p.m. Das is known for his deep voice and singing Hindu devotional music known as kirtan.
Returning presenter Gina Caputo has been teaching at the festival since 2014. Based out of Boulder, Caputo referred to Telluride as the "Crown Jewel of Colorado." As soon as Caputo passes through Montrose and sees the San Juan Mountains, she is always in awe of the landscape. She thinks back to when the Utes lived in the area and the spiritual history behind the land.
"I do my best to try to connect with that perspective and see the land as precious and inspiring. It's like evidence of God; and by that, I mean the God of your understanding. For anyone who is really moved by nature, there are just not that many places on Earth that can move you like this valley," Caputo added.
For Caputo, yoga festivals are a way to experience the depth and breadth of yoga and delve into all the practice has to offer. The schedule for the week includes meditation and wellness classes, sound healing, power courses, slacklining, and guided hikes, among other activities.
"There are people that espouse the philosophical practices and come from different lineages within yoga. … Yoga doesn't come from a single lineage. There's a tap root, 'what is yoga,' and then there are all these other roots that come off of it," Caputo said.
Attendees can experience practices that are not common in their region. For example, ariel yoga, where a hammock is suspended from a high anchor point.
Each year, Caputo offers a musical tribute class during the festival. Her first year, the theme was Pink Floyd, and in 2022 the artist is Fleetwood Mac. The class is titled "Go Your Own Way." She said the course has been extremely popular.
"I pick an artist that we want to basically honor, and I make a playlist of all of that artist, and we have a super fun practice that celebrates the impact of music and art in general on our lives," Caputo said.
In addition to the tribute class, she teaches three courses following the Hindu trinity of Brahma, Vishnu and Shiva. Each class will focus on a separate portion and its different energies.
With the pandemic, organizing the festival has had its fair share of challenges, Henschel explained. It took a "leap of faith" to plan for a full festival, not knowing what the present environment and restrictions would look like; however, it all came together, and Henschel is excited to move forward with their biggest festival to date.
After attendees and yogis have left the box canyon on Sunday, Henschel hopes people will take away what they came to Telluride seeking.
"Whether that is a renewed sense of purpose, a reconnection with nature, a lighter and happier perspective on life, or just feeling good about having had a wonderful weekend with friends. We want them to leave with joy and a sense of personal transformation, whatever that looks like," Henschel said.
During the festival, free community events will be offered throughout Mountain Village. Registration for those events and a full schedule and lineup can be found online. Passes and tickets are still available for purchase at tellurideyogafestival.com.