In search of the 5 best little mountain towns in Colorado | Special Thanks Vince Bzdek
Special Thanks Vince Bzdek & The Denver Gazette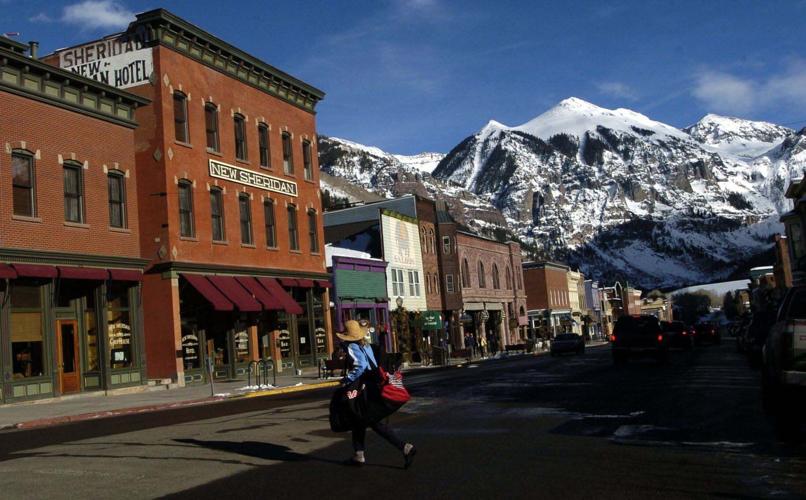 Marla Croke crosses West Colorado Avenue or "Main Street" in downtown Telluride loaded with her son's hockey equipment.
Christian Murdock, Gazette file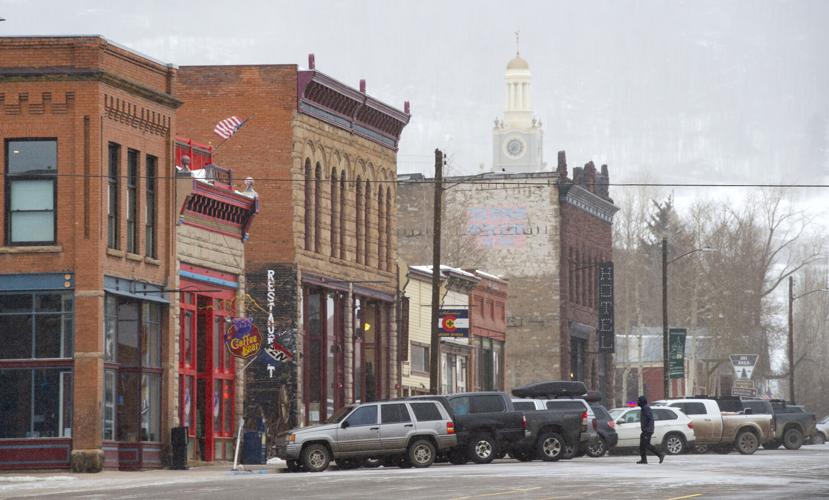 A pedestrian crosses Greene Street in downtown Silverton.
Christian Murdock, the denver Gazette file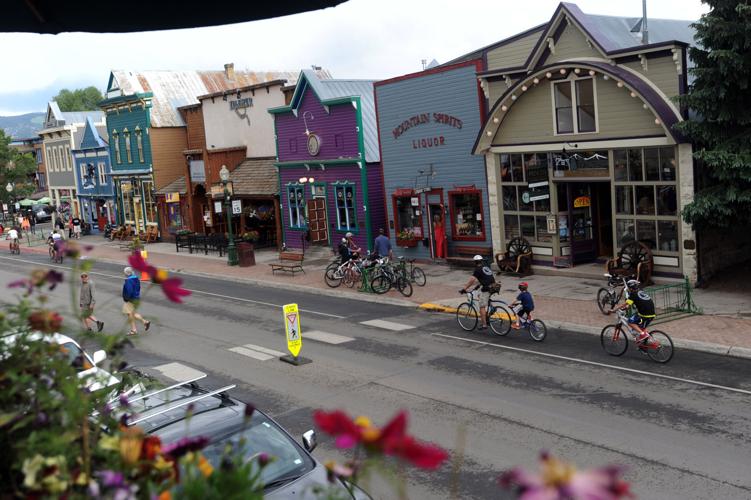 Cyclists ride down Elk Avenue during the Bridges of the Butte 24-Hour Townie Tour as part of Crested Butte's annual Bike Week.
Christian Murdock, Gazette file
Snow piles line Elk Avenue on a quiet January night in Crested Butte.
Christian Murdock, the denver Gazette file
In the high country, September is often the sweetest month: The clouds and crowds have mostly gone while the sun shines abundantly on. That intoxicating combo of hazy amber days and newly chilled nights is a little like a good whiskey on ice.
Faced with our state's abundance of alpine riches, I try to pick a different mountain town to run away to each September when the leaves go gold. I'm finding — after an absence of nearly 20 years from Colorado — that the pecking order has changed dramatically. Some of my old favorite haunts have gone commercial and crowded, alas, and some old wide spots in the road that I used to rip through in my Jeep at high speed have suddenly become cool.
I ran into some first-time Colorado visitors the other night who were asking me to name some favorites, so my friends and I gave it some serious thought, and here's the highly personal top-five list we came up with. I include our purely subjective reasoning with each entry.
A few criteria: A true mountain town can't be too big. Durango, for example, is disqualified from our list in that it is more city than town now, with nearly 20,000 people. A mountain town has to be the opposite of the bustle and stress of a city: a restorative escape from all congestion and urbanity. Similarly, it must be away — far away — as the getting there is part of the attraction. You've got to earn a mountain town to really savor it.
Other instant disqualifiers include an outlet store within 5 miles, and an interstate highway ripping through it.
And a true mountain town has a certain scruffiness, a honky-tonk rejection of polish and civilization that encourages us all to let our hair down some and our inner hippies out.
And lastly, of course, the town must be so staggeringly beautiful it sends lightning through your veins.
Here we go then.
1. Crested Butte
This historic old mining town is just across the Continental Divide from Aspen, on the back side of the Maroon Bells, but it's a world away. Unspoiled is the operative word: Crested Butte is still unvarnished and laid back in a way Telluride and Aspen were 40 years ago, somehow resisting corporate forces that have overrun others. As a result, Crested Butte is often called "Colorado's last great ski town." It's avoided being overrun by cookie-cutter condos by keeping those out at the mountain village so that it can perfectly preserve its quaint 1880s architecture. (The town's main street, Elk Avenue, wasn't paved until 1976.) In September, it is a hiking and mountain biking paradise, so much so The Mountain Bike Hall of Fame calls Crested Butte home, and the town has been dubbed the Wildflower Capital of Colorado. In winter, Crested Butte is isolated enough that Colorado's old Indie ski spirit is still alive and well, as evidenced by the long tradition of naked skiing on the last day of the season.
2. Telluride No. 1 on a lot of lists for the simple reason it is undeniably the prettiest little hamlet in Colorado, bar none. Bounded by 13,000- and 14,000-foot peaks, and tucked into a box canyon with a veil-like waterfall draped at the end, there is no more picturesque place in the state. Main Street has somehow maintained its Victorian charm despite the powerful forces of gentrification — so much so you can still squint your eyes and imagine Butch Cassidy coming into town to rob his first bank. Like Crested Butte, Telluride also found a different spot to stash all its new development and condo complexes, up at the mountain village north of the canyon, which you can commute to by gondola. Telluride is only second to Crested Butte by a whisker, and then only because it lost its innocence some when Oprah and Tom Cruise started buying houses there, driving prices higher than Wilson Peak. The natural beauty is still unsurpassed, but Telluride's soul isn't quite as pure as it was once upon a time.
3. Steamboat Springs
Cowboy boots and ski boots pardner up wonderfully well in Steamboat Springs, which is still a true Western town, with wide streets for accommodating cattle herds, and even wider mountain vistas visible for 360 degrees. The tree skiing at Steamboat is the best in the state, if not the world, and the northern star of our mountain towns is known as the native home of champagne powder. Once again, the ski village grew up a bit away from the wild cowpoke heart of downtown Steamboat, allowing it to stay a bit country and funky. And the eclectic Strawberry Hot Springs just outside of town has remained steadfastly open to all comers — nature lovers, oddballs and real-live cowboys — lending Steamboat its egalitarian vibe.
4. Ouray I used to think of this tiny town nestled into the San Juans just over Imogene Pass from Telluride as that city's blue-collar doppelganger — cheaper, less glitzy, a little more raw and real. And Ouray with its art deco wedding cake mountains on all sides is still those things, but its bustling now with a kind of funkadelic vibe all its own. There are rooftop bars in Ouray now, and a great little bookstore with the best Colorado section I've encountered in any bookstore anywhere. There's also a billion Jeeps, a great new perimeter trail, an ice-climbing park, a terrific hot springs pool, and a via ferrata with breathtaking views. In other words, Ouray's got some new spunk without losing any of its old charms like the Outlaw Steakhouse or the vapor caves of the Wiesbaden Hotel. Simply put, Ouray is a good way to go to Switzerland without flying.
5. Salida
The first time my friend Jeff Book suggested we go get a beer in Salida, I looked at him like he'd lost his Rocky Mountain marbles. In my faulty memory I conjured up a Salida from 30 years ago, which is the last time I'd been there, when it was kind of one of Colorado's armpits — unshaven. Salida today is full of bikes and hikes and artists and kayaks and cool places to eat and drink, and one of the great decks in Colorado, literally overhanging the Arkansas River. It's Salida's embrace of that river that really sets it apart, with a kayak course that runs right through town, a fabulous rafting festival, and an idyllic riverside park with a bandshell that features great music all weekend long. The whole town kind of hangs out along the river on weekends, reminding me of those great little plazas in Italian mountain towns where every day is a festival.
What's missing: Aspen's not on the list, or Breckenridge, Vail, Estes Park, Buena Vista, Nederland, Gunnison, Grand Lake, Dillon, Glenwood, Silverton or so many others. In Aspen and Vail, alas, the focus isn't much on the mountains any more, more on the fancy folks and fancy shops they've attracted. And Vail is more of a prefab Bavarian village than a scruffy mining town, far too close to I-70. And Aspen has gotten too glitzy and standoffish, whereas Telluride is still surprisingly down-to-earth despite its celebrities. The Free Box lives on in Telluride, where locals leave coats and ski clothes and hats and stuff they don't need for anyone to take.
Manitou Springs came up in conversation as a quaint little mountain town, full of charm and whimsy and high cliffs. But there's no real getting away to Manitou; it's right there attached to Colorado Springs, too easy to acquire.
Breckenridge was tough to leave off the list because it has it all, and that sweet little stream running though it takes the town to another level of gurgling beauty. But man, has Breckenridge been discovered; it's wall-to-wall humans most weekends now, and getting away from the hordes is still a prime directive of mountain towning in my book.
I still have a soft spot for Estes Park because my family used to vacation there every summer when I was a young'un. But any town with seven taffy shops might be just a little too touristy for this list.
Buena Vista and Salida are two sides of the same coin, and we considered listing them together since they are so close by. But Salida's got that full-on river embrace going for it over Buena.
Of course, this list will change over time, and I worry what could be lost from the list as Colorado continues to grow so rapidly. Vail Resorts recently bought Crested Butte, for example. Let's just hope they don't bring too much spit and polish too soon to Colorado's reigning diamond in the rough.
What's your list?